I often read the stories posted on The Live Love Laugh Foundation's website about people overcoming depression and mental health issues. I really recommend checking them out whenever you or someone close to you is going through a difficult time. You'll realize you are not alone, and there is hope. Once in a while I hear stories about extraordinary people overcoming great odds on the way to recovery from a major accident or injury. Three weeks ago I witnessed one of those moments when I climbed Yalung Ri, a 5,600 meter peak in the Himalayas, with Tshering Dorjee Sherpa. Let me share his amazing story with you.
Tshering was born 46 years ago in Kharikhola, a small village in the Solu-Khumbu region of Nepal. This part of the Himalayas has given us some of the strongest climbers on earth, in part because of its altitude above sea level. But Kharikhola is only about 2,200 meters high, which is significantly lower than most of the other Sherpa villages. His father was one of the village Lamas and he was the fourth of six children. He had three sisters and two brothers. He lived a normal childhood until age 5 when, as was traditional for the second son, he entered the local monastery. As a monk he was given a new name: Nawang Nuru. He grew up in the monastery and received a much better education than the average child in Nepal. He spent 3 years in the monastery at Tengboche at 3,800 meters with panoramic views of Mount Everest and surrounding peaks.
In Nepal, like in other countries in South Asia, it is traditional for the oldest son to be the financial support for the whole family, especially to take care of their aging parents. Tshering had one older brother that worked as a trekking guide but that completely refused to give any money to his family. This rejection was hurtful to the parents and put the family in a difficult position. Because of his family duties, Tshering was forced to leave the monastery after 15 years at age 20 to go to work. He would have to support his parents and the rest of the family financially.
In his place, I would have been terrified. Forced to leave the sheltered and comfortable life at the monastery and face the "real" world, knowing that half a dozen people were depending on him to survive. He left his monk robes behind and travelled to Kathmandu. He found a job with a trekking company as a cook's assistant. When he talks about this job he says he was a "kitchen boy". In 1993 he was hired by an Indian expedition to Mount Everest as a "Mail Runner". Before satellite internet and mobile phones, expeditions would communicate with the outside world by having people run up and down the mountain with letters and telegrams. It took Tshering 2 days to get from Everest Base Camp to Lukla to deliver outgoing mail and to pick up any letters for the expedition. The next day he would start back up and reach Base Camp on the 4th day. That's a 130km round trip in 4 days across the Himalayas. As you can see, he is an incredibly strong person. Most of the money he earned was sent to Kharikhola to support his family.
Up to this point, he had worked with treks and expeditions in small supporting roles but he had never climbed a mountain. He had received no training in mountaineering, had never used crampons and had no experience at altitudes above base camp. For these reasons, I find his next move so puzzling. In 1995 he was hired by Mountain Madness (run by Scott Fisher at the time) to climb Mount Everest from the North side. Although the route is not technically challenging, keep in mind that the first mountain he ever climbed was the highest mountain in the world! Very few people can say that.
He did other trekking jobs and was part of an unsuccessful Everest expedition in 1998 reaching 8,300 meters. That year he married Riku in a Sherpa wedding in Thame but they still live in Kathmandu. The next year they had their first of two daughters. Tshering continued working as a climbing Sherpa with successful summits of Everest and other 8,000 meter peaks. I finally met him in 2004 when I climbed Cho-Oyu and he was supporting our expedition. I would't have imagined how much time I would be spending with him and how many mountains we would climb together. In 2005 I climbed Everest for the first time and again he was supporting that expedition although we didn't reach the summit together. But through the next 5 years I kept meeting him one or two times every year during climbing expeditions.
Then, tragedy struck. One of the Sherpas that I had come to know very well was Chhewang Nima Sherpa. We climbed Everest together once. Sherpas are generally kind people but Chhewang treated me like a brother. His story is one I will write some other time but, finding ourselves again on Everest on different expeditions during the spring of 2010, we made plans to climb Ama Dablam with my father on October of that year. Sadly, just two weeks before we were scheduled to meet in Kathmandu, Chhewang was swept by an avalanche while climbing Baruntse. He was killed and his body has not been found yet. Because of this tragic accident, Tshering Dorjee stepped in to join us on the expedition and we summited Ama Dablam together.
In 2012, Tshering and I climbed Lobuje East and he also joined us when I climbed Island Peak with my father. But most importantly, he was there with me in 2014 when I had a paragliding accident in the Rolwaling Valley of Nepal. He was the only one with me when I crashed as I took-off and I was unconscious for about 10 minutes. He thought I was dying and he was very scared. When I came around he helped me walk back to Na village and get our things ready to jump on the helicopter that took us to Katmandu so I could get to a hospital. The next day, he took me to a monastery in Boudhanath to give a prayer of gratitude because I had survived with "minor" injuries.
As you can see, Tshering was one of the strongest people I knew and one that I trusted with my life. He had summited Mount Everest 16 times as well as Cho-Oyu 11 times and Lhotse one time. In May of 2016 his life took an unexpected and unfortunate turn.
In the Spring of 2016 Tshering Dorjee returned to the North side of Everest to climb with a team from Chile. They reached the summit on May 23rd and went down to sleep at Camp 3 at 8,300m. During the descent to the North Col he began feeling dizzy and continued heading down as, typically, loosing altitude will take care of most altitude sickness problems. But back at Advanced Base Camp the dizziness became more intense and he was vomiting periodically. Still, he descended all the way to Base Camp and by the night of the 27th he was so ill he couldn't move. A Jeep arrived the next day to evacuate him to Nepal and he had to be carried from his tent. They left early morning and by mid afternoon they had crossed the border into Nepal where a helicopter finally picked him up and he was taken to a hospital in Kathmandu.
The doctors at that first hospital diagnosed him that day with an "altitude problem". He had descended more than 6,000 meters but still he couldn't even sit down, he was vomiting and he was extremely dizzy. Concerned with how vague the diagnosis was, his family took him to another hospital where a doctor finally diagnosed him with a stroke. The strong, tough Sherpa was put in the ICU. He says he felt hopeless and very sad, and I believe he was describing symptoms of depression.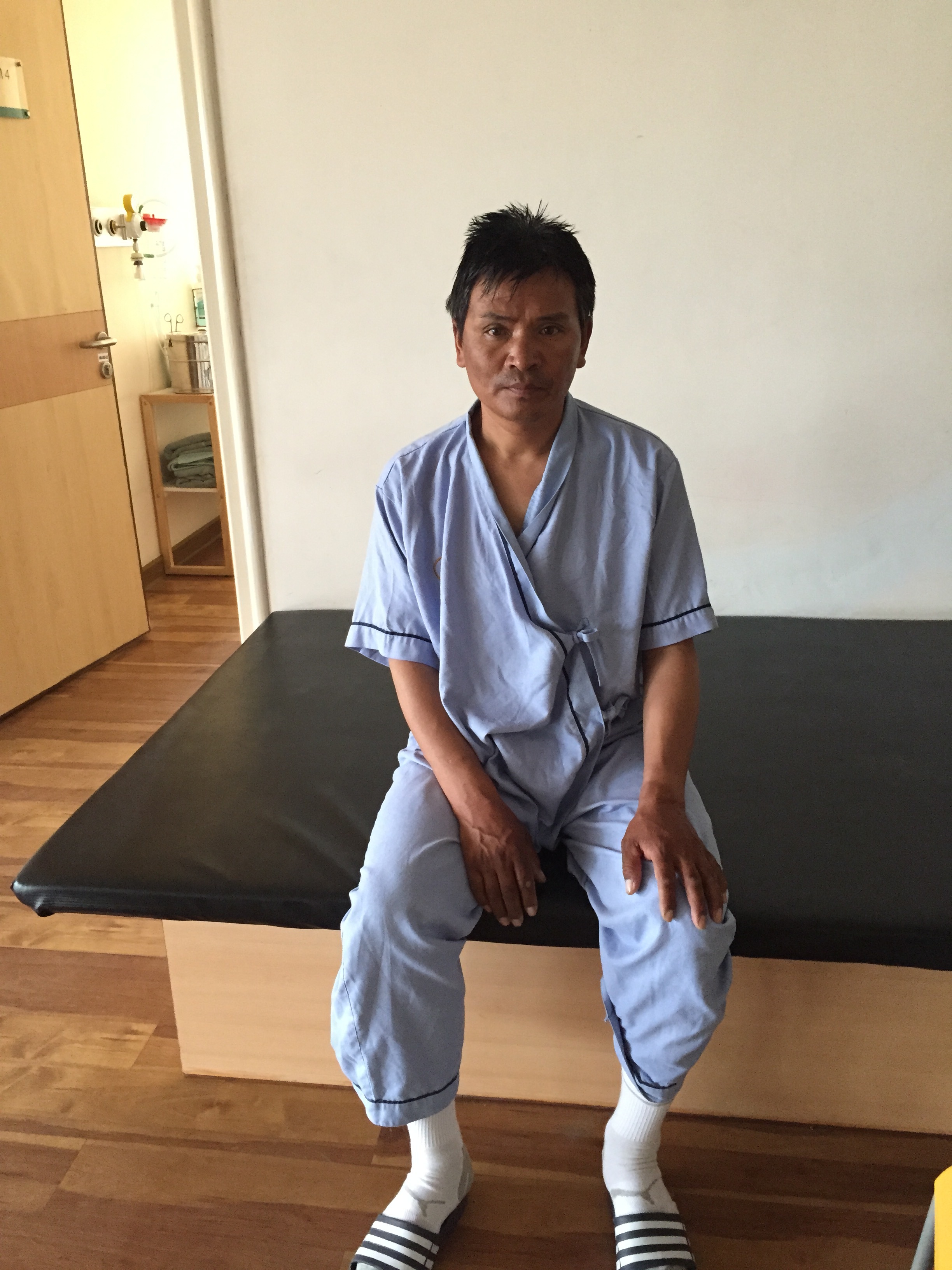 After some time, his physiotherapy began. He couldn't sit down without someone holding him, he couldn't lift any object. Day after day, with the support of his family, he tried as hard as he could to learn again the movements that had come so natural before. He was still constantly dizzy but he still tried. It took nearly six months before he could walk without assistance. Just a few steps at a time. Also as therapy, he goes swimming, trying to get back the strength he had lost.
I met Tshering again in Kathmandu on November of 2016. He looked physically drained but I could see his sprit was unbroken. His progress continued and by the Spring of 2017 he was walking again, with just slight traces of his condition. He went on a trek to Everest Base Camp with clients and felt fine but had a small hemorrhage in his eye. A reminder not to push it too hard. He also went to Mera Peak's high camp. Another eye hemorrhage appeared and he had slight problems with his vision. This autumn, he couldn't get a job on a trek. What happens to a climbing sherpa that can't climb? How can he support his family? What happens to his confidence and self-esteem, and to the genuine joy he feels when he climbs a mountain? I decided to go back to Nepal and climb with him one more time. And not just any place in Nepal, but in the Rolwaling valley where I had my accident three years ago. We were going to face our demons together by climbing Yalung Ri (5,630m)
On October 9, 2017 Tshering and I rode a Land Cruiser for 8 hours from Kathmandu to Chetchet on some of the worst roads I've ever been on. During the next three days we hiked up to Na village at 4,200m. The memories of my accident came flooding back but I was ready to move on. The next day we moved to our high camp at 5,000m and that afternoon Tshering's eye hemorrhage returned but he was determined to give it a try. It was a very peaceful night inside our tent. Yalung Ri is not technical peak but there is a long, steep glacier near the summit. It was the first time he used crampons since the stroke and he walked slowly but confidently. Roped together, we made our way up zigzagging along the crevasses until we reached the summit.
He described reaching the summit as a moment of total happiness. He told me he felt he had been born again, given a second chance. "This has been a wonderful year!" he said. After shooting a short video and taking some photos we began descending. On the way down, Tshering slid twice on the snow slope and I had to belay him, a reminder that although his recovery was astonishing, there's still a little way before full recovery, if he'll ever get there. But I can say that the man I saw at the beginning of the Yalung Ri climb was not the same that came down that day. The confidence was back. The Sherpa was a climber again.